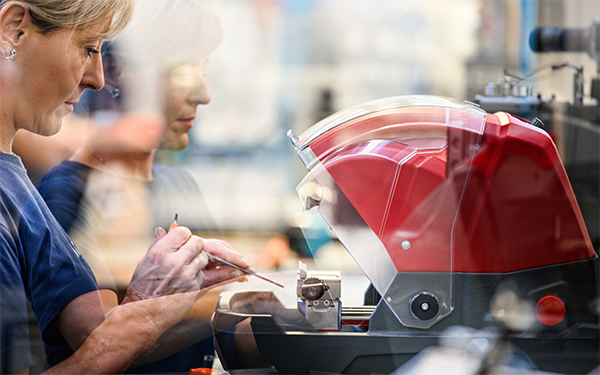 Gymkana 994: Easy-to-use, Versatile and Convenient!
High security and edge cut keys. All-in-one self-aligning universal jaw for most applications. One cutter and one tracer. No adaptors or tip stops needed. Faster software boot-up. Super easy to use!
Gymkana 994 is the latest addition to the stylish brand of Keyline electronic key cutting machines, primarily for automotive keys, that can cut by code, duplicate an existing key or cut a key by depths if a special tumbler pattern is required.
The Gymkana's design was based on two requirements;  make it super easy to use and keep the price of the machine down so that anyone can own one. That's it - simple to use and affordable!
Keyline engineering did an amazing job of meeting the above two requirements, first by focusing on the physical challenge. By eliminating unnecessary steps required by the operator and reducing the number of components required to cut keys, it became apparent that a Z-axis component would need to be added.  With the addition of a Z-axis for raising and lowering the 2mm diameter carbide cutter and 1.5mm diameter tracer, which allowed for precise positioning for either thick laser style keys or for lowering past the thin edge cut keys or even credit card thin emergency keys.  The cutter, tracer and jaw only require one hex wrench to remove them.  Speaking of cutters, when you need to change it, just loosen the grub screw, remove, insert the new cutter all the way up, and tighten the screw. No need to recalibrate the cutter. The cutter rotates between 3000-8000 rpm depending on key blank material selected.
The U jaw design has a smooth top surface with line markings for key insertion positioning. The lines are only for approximate key locating. There is only one groove directly behind the clamping bridge, in the event there is ever a need for a unique shoulder stop requirement. The smooth top surface of the clamp makes it a breeze to keep it free of chips.  This improved design also eliminates the need for tip-stops or adaptors for the majority of all vehicles. 
When inserting a key into the jaw, just get it somewhat close to line on the jaw as shown on the display screen instructions and tighten the knob. The key self-aligns (left-right) as you tighten the knob.  With this smooth top jaw it is possible to insert over 85% of all automotive keys (at this time of writing) of either a thick laser cut key to a much thinner key without changing the clamp. In other words, that means you don't change anything for the vast majority of vehicle keys when switching from a laser key to an edge cut key and back. The Gymkana even knows which cutter and jaw are required for every vehicle. Upon selecting the vehicle information and having installed the key to be cut, the Gymkana will verify the correct clamp is installed, verify the cutter is calculated to the proper depth and finally the tip of the key blade location will be located. Only then will the machine proceed to cut the key. When you insert a double-edge cut key, both sides will be cut, eliminating the need of having to flip the key over and cut the other side.
 ONLY one cutter, one tracer and one clamp are used for most vehicle keys!
There will always be exceptions as automobile manufacturers continue to push the creative key design envelope.  Currently, optional jaws for Volkswagen and the newer Jeep Wrangler keys (V jaw) which support the newer key with 4-surfaces required to be cut as well as the 6-cut Tibbe keys (H jaw), are also available.
The U jaw sits on a carriage assembly that is suspended by triple stainless steel horizontal rods to ensure stability and accuracy of table movement to meet key cutting tolerances. The carriage assembly allows the U jaw to "float above the rods to permit almost any conceivable future head design.  This design allows for future unique key designs that the automobile manufacturers may envision. The one piece cast aluminum machine base provides a stable foundation to support this smooth operating cutting device.
As with all Keyline electronic machines, the industrial grade console can be mounted on the Gymkana 994 using the multi-purpose bracket that can also be converted as a counter top stand or the console can be hung on a wall or even inside a mobile vehicle to save space.  The Gymkana console has a color touch screen which features proprietary Liger based software and with its intuitive icons, that drive the 3-axis motion and easy to follow instructions, anyone can become very proficient with minimal instruction. When you choose a vehicle key to cut, the color display will even guide you for any component change that may be required.  The software also features Password Protection, all users can be assigned an individual password to allow verification of authorized machine use, keeping your machine safe from individuals who should not be using it.  Also, the machine is capable of working with the Keyline app in conjunction with an Android tablet or cell phone in place of the console.
The Gymkana arrives with the latest software update installed. Updates can be done by Ethernet cable or USB stick. Auto manufacturers launch new vehicles anytime throughout the year, making it a challenge to keep every make and model current. Keyline works directly with the original equipment automobile manufacturers to be able to provide all Keyline key machines with up to date vehicle key information as soon as possible.
A roomy well-lit workspace with a large safety shield, combined with super easy to use software, universal jaw and cutter combined in a small footprint, make the Gymkana a must-have machine for your key cutting needs. 
Gymkana 994 Features
·       Fast start up
·       Password Protection
·       Make/Model/Year Lookup
·       All makes of vehicle listed – choose between North America or optional world locations
·       Cut by code, duplicate, cut by depths
·       Universal Jaw for majority of all automotive keys
·       No tip stops or adaptors required
·       Multiple language selection
·       Z-axis allows for new self-aligning universal jaw
·       Proper Jaw, cutter, tracer verified before each key is cut
·       Cutter and tracer are easy to change out and replace
·       Universal mounting bracket for console or tablet
·       Tray for chip disposal
·       Perfect for shop or mobile operations
·       Android software app also available for tablet or cell phone
·       Software updates easily done via USB memory stick or Internet
·       2 year Manufacturer Warranty
 Machine Specs
·       POWER: 110/60Hz MOTOR: Brushless
·       ABSORPTION: 120W (35W in stand-by)
·       EXTERNAL CONNECTIONS: 1 USB; 1 LAN
·       CUTTER: 2.0 mm carbide cutter for laser, edge cut and Tibbe keys
·       CUTTER SPEED: 3000-8000 rpm (variable)
·       CLAMPS: Universal U clamp for laser and double-sided edge cut automotive keys. Optional clamps upon request: H for Tibbe Keys (6 cut), V for Volkswagen laser keys
·       MOVEMENTS/AXES: 3 axis, guided by stepper motors through interpolated linear moves
·       KEY READING: Electric contact
·       LIGHTING: LED illuminated cutting bay
·       USER INTERFACE: 7" color touch screen, 16:10, resolution 800 x 480 px, VGA
·       ELECTRONIC EQUIPMENT: Mainboard with iMX6 CPU, 1 GB RAM, 4 GB memory
·       WEIGHT: 42 lbs.
·       DIMENSIONS: 12" W x 18" D x 12" H (machine); 8" W x 6" D x 3" H (console)
·       2 year Manufacturer Warranty